Santesh menerima pengiktirafan Malaysia Book of Records
Muzik video berjudul Amalina versi Tamil nyanyian Santesh Kumar menerima pengiktirafan Malaysia Book of Records apabila meraih sejuta tontonan dalam tempoh 72 jam dilancarkan.
Menurut Santesh, pencapaian itu merupakan satu kebanggaan buatnya memandangkan dunia seni tanah air semakin dihujani penyanyi berbangsa India sepertinya.
"Saya rasa gembira apabila muzik video Amalina mencecah sejuta tontonan dengan cepat sebab situasi sekarang bukan macam dulu.
"Jumlah pesaing artis menyanyikan lagu Tamil makin ramai sekarang," katanya.
Santesh ditemui pada majlis pelancaran lagu Mymuna di sebuah hotel di Bukit Bintang, Kuala Lumpur hari ini.
Mymuna merupakan single kedua Santesh selepas Amalina.
Untuk rekod, muzik video Amalina mendapat pengesahan berkenaan pada Oktober tahun lalu tetapi majlis meraikannya hanya diadakan hari ini.
Santesh mula berkecimpung dalam arena seni tanah air sejak 2011 dan lebih dikenali dengan lagu-lagu Tamil. Dia kemudian menceburi pasaran pendengar Melayu pada 2017.
Menurut Santesh, lagu berkenaan – yang turut dilancarkan dalam versi bahasa Melayu – turut menjadi salah satu faktor yang menyebabkan muzik videonya itu menerima tempias.
"Versi bahasa Melayu itu berada di kedudukan tertinggi YouTube selama seminggu.
"Apabila ia dilancarkan, peminat India sudah tidak sabar-sabar untuk menunggu versi Tamil," katanya.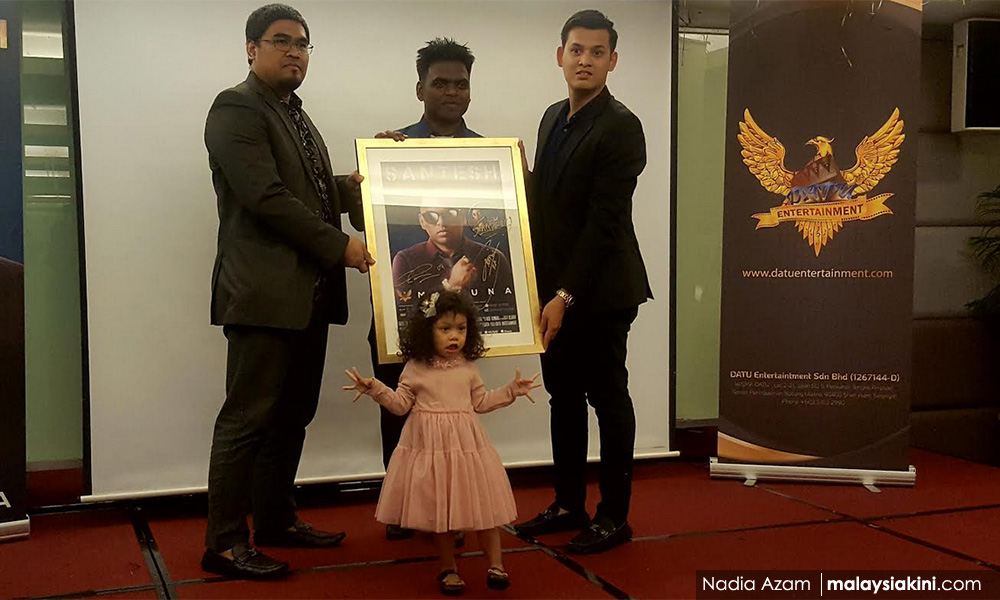 Santesh berkata dia turut menerima cabaran apabila sebuah lagi klip video artis duo – iaitu Havoc Brothers – hampir menewaskannya pada saat akhir untuk merebut pengiktirafan tersebut.
"Pada hari pertama dan kedua tontonan kami menerima jumlah hampir sama.
"Tapi tuah menyebelahi apabila pada hari ketiga jumlah itu terus meningkat," katanya.
Pada masa sama, Santesh berkata dia teruja apabila akan membintangi sebuah telemovie berjudul Amalina.
"Saya memang minat berlakon sejak dulu lagi, tak sangka diberi peluang untuk merealisasikan impian itu.
"Lebih mengembirakan, penangan lagu Amalina akan berterusan hingga akan dijadikan sebuah telefilem tidak lama lagi.
"Malah saya akan membawakan watak utama dalam dalam telefilem yang akan memulakan pengambaran minggu depan," katanya.
Sumber : Malaysiakini